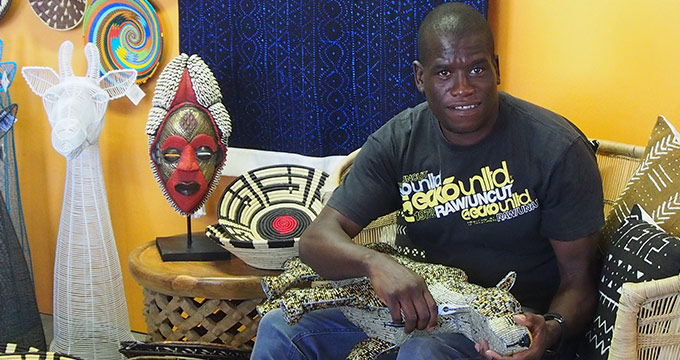 He developed his skills and wire bead abilities through the many years of experience there. Malanga joined African Creative three years ago after first providing wire beading forms as a freelancer. Today Malanga is the head designer at African Creative.
As head designer, Malanga takes a concept brief and develops all and any wire and bead art projects. All new themes and new product ranges begin with Malanga. He is given the concepts and he then creates the forms and art designs required for the project. Malanga first creates a sample, which is then approved by the client. As head designer, Malanga is responsible for all formation and framing of wire art.
Once a sample is approved by the client and sales are ordered. Malanga begins the intricate process of forming each wire sculpture by hand. Other artists in the team then string the beads and weave rope or copper wire to the wire structure. Because each wire form is made by hand, each piece is unique, and all beading is singular in that, the same patterns are never replicated.
Malanga is a passionate innovator. His attention to detail, his acute understanding of form and structure of the particular animal are noteworthy. Malanga leads a skilled team of artisans to create handcrafted art from beginning to end. The team work together and their creativity ignites a happy and fun environment within the studio. This celebration of Africa can be noted in the variety of colours used, beadwork and wirework are traditional crafts and these link to decorative traditions in African culture.
At African Creative, our team's creative flair is endless, and the design of the products appealing and contemporary. The team produce a limited number of extraordinary work in beads, copper, wire and rope and each piece is individually crafted and no two are alike. We like to think that each piece is created, is as individual as the customer who purchases it.
If you would like to browse our uniquely handcrafted art pieces, please click here for inspiration